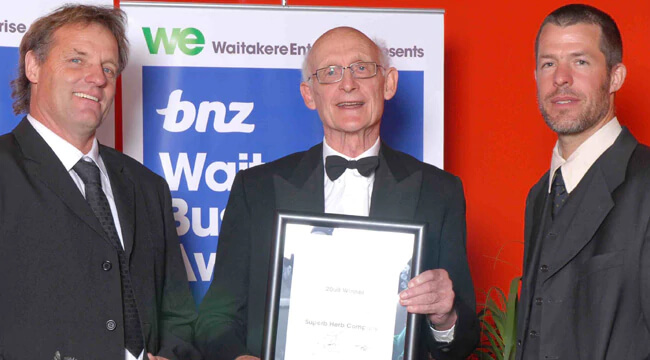 Entrepreneur Jim Pike was surprised to be told his company Superb Herb had won the supremetitle at the 2008 BNZ Waitakere Business Awards.
His company also scooped the best mid-sized business category, winning a total prize packagevalued at $17,500.
Jim and his wife Valerie started the Henderson Valley company as a small family business and it has since grown to be the largest grower of organic herbs in New Zealand, supplyingFoodstuffs and Progressive Enterprises with its products.
"We didn't dream that we would win one award, let alone two" he says.
Jim didn't know the company had been nominated for the awards and was overseas when his daughter made the application.
"It does a lot for us because it boosts our profile and it shows our customers that we're a worth while business to deal with."
"We're looking at expanding and we've got some big ideas and we're only a quarter of the way there."
Waitakere Enterprise chief executive John Wadsworth was pleased with the standard of entries at this year's awards.
"Having completed a rigorous submissions process, which included a site visit and interview, the winners really stood out as exceptional in their respective categories," he says.
"We are delighted to see that growth and creativity in business is alive and well in Waitakere."
See original article at stuff.co.nz